MQ-Inventory is an analyze tool for WebSphere MQTM.
MQ-Inventory is intended for companies that are heavy users of WebSphere MQ, so they can get an overview, and get a clear visual picture over the quality of their setup.
MQ-Inventory gets it's input from either the CSQUTIL or the MO03 support-pack from IBM.
MQ-Inventory will try to match all objects across all your WebSphere MQ Queue Managers to give you and your developers the complete overview.
Sample overview screen shot from MQ-Inventory which shows six WebSphere MQ Queue Managers (4 locals and 2 discovered GREEN) only one of the Queue Managers is defined without errors WHITE. The three with some errors are in RED. Take look on full the sample.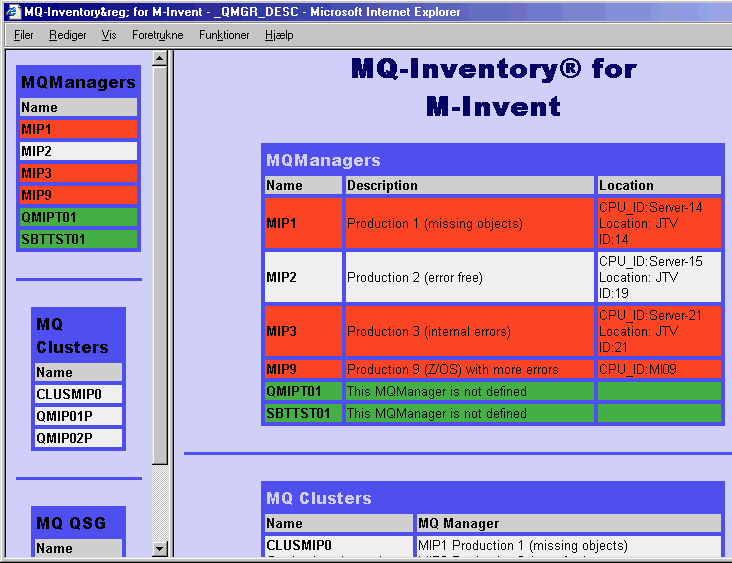 MQ-Inventory is able to discover objects that are pointing to non-defined Queue Managers, e.g. by your Business Partners, so you can see what they have to define for solving your needs. On the sample there are a couple of errors in the Queue Manager definitions to illustrate the analyze capabilities of MQ-Inventory. On MIP1 there missing some channels and a QLOCAL. On MIP2 there are no errors. On MIP3 there missing a Sender Channel and two QLOCALs. On MIP9 there are missing two queues. And MQ-Inventory has discovered two other Queue Managers (QMIPT01 and SBTTST01) which might be at some of my business partners.
Currently MQ-Inventory is not packed, so you can only get a picture of it's power by looking on my sample pages. This sample shows also the ability to validate that all Local Queues have an Alias queue defined (if required by the WebSphere MQ administrator).
There are a WebSphere MQ Cluster example here explaining how to join clusters using shared channels.
There are a WebSphere MQ Cluster example here explaining how to join clusters using separate channels per cluster.
MQ-Inventory is not released yet, but if you're interested in a demo on your own WebSphere MQ setup, don't hesitate to send me a email I will do an analysis on your own data and send you the result.
---
The following are trademarks of International Business Machines Corporation:
IBM, MERVA, MQSeries, WebSphere, WFNI, Object REXX